Tasty hand-held digestion, sleep, immune
+ anti-cancer support
Vegetarian (Vegan, Paleo, Whole 30 options)
June is Fresh Fruits and Vegetables month. I'm so excited, my local farmers market on the island just started back up again for the summer season! Up in the PNW, the month of June brings fresh greens such as Swiss chard, collards and herbs. You can also find a seasonal bounty of radishes, carrots and crisp cucumbers. To take advantage of all of the available fresh veggie goodness, this month I share with you a recipe for Swiss Chard and Quinoa Vegetable Wraps that rolls up all of these raw vegetables plus mint and cilantro together with cooked quinoa and a sweet-tart-earthy lemon honey sunflower seed butter dressing for a crisp, flavorful, protein and vitamin packed lunch or dinner.
Wraps too messy? You can easily make this recipe into a more portable bowl with the cooked quinoa as the base, topped with all of the veggies and herbs, and drizzled with the dressing. Read on for the recipe and health benefits.
I L.O.V.E. farmers markets, so much so that I even make a point of checking them out when I travel away from home. I find it so interesting to see what grows locally in each area that is different from the produce selection in my hometown farmers market. I love learning about all of the different varieties and flavors of cherries, plums, apples, and potatoes at the farm stands that I never find in the supermarkets. I'm always amazed how much bigger and more flavorful and colorful the produce is at the farmers markets. Plus, because it's so just-harvested fresh, it seems to last much longer too. The more recently a vegetable has been harvested from its probiotic-rich soil, the fresher it is, and the more nutrients and flavors are retained. All 5 of your senses can appreciate the beneficial difference.
A rainbow of nutrients
This recipe packs a rainbow powerhouse of vitamins, minerals, protein, fiber, antioxidants. Swiss chard is a leafy green and a member of the beet family. One 7 calorie cup of chard contains 3 times the recommended daily intake of vitamin K and 44 percent of the recommended amount of vitamin A. Eaten raw or cooked, it can help to combat cancer, reduce blood pressure and obesity, and boosts energy, glowing complexion, and sports performance.
The high levels of Vitamins A and C in carrots, plus carotenoid antioxidants, potassium, and fiber support digestive, cardiovascular and bone health, immune function, good vision, and balanced blood pressure. They also aid in cancer prevention and diabetes control.
Cucumbers, high in water and electrolytes, also have lots of bone-supporting Vitamin K. To get the full fiber and nutrient benefits of cucumbers found in its peel, choose organic. The cucurbitacin found in its peel has been found to help cancer cells from reproducing.
Radishes, a cruciferous root veggie, add a satisfying low-calorie, Vitamin C, high fiber crunch. Cruciferous vegetables have been shown to have anticancer properties. They are also a natural anti-fungal that a study found was effective against the overgrowth of Candida albicans, which causes vaginal yeast infections and other yeast infections in our bodies.
Raw ginger root is known to have anti-inflammatory, antibacterial, and antiviral properties. It is excellent in comforting stomach upsets and nausea, improving digestion, and reducing gas, pain, and inflammation. Cilantro is reported to offer anticancer and analgesic effects and has the potential to reduce sun damage in skin. Mint is another tummy tamer of indigestion and IBS and the invigorating aroma of mint oils increases alertness and diminishes anxiety and fatigue.
Sunflower seed butter, unsweetened, is a nutritious unprocessed alternative to peanut butter, loaded with protein, Vitamin E, magnesium, and healthy fats. You can find it now on the shelves in most stores next to the nut butters. The nutrients in sunflower seeds improve metabolism, balances cholesterol, boosts immunity, naturally slows down aging in our body, and helps with quality sleep, digestion, and even weight loss. Look for high quality "sunbutters" that are made 100% from sunflower seeds with no added sugars or oils.
Cooked quinoa, a seed, is an excellent high-fiber plant-based source of protein, 8 grams per cup, plus iron, magnesium, manganese, and folate. It is one of the most complete plant-based proteins and contains the essential amino acid lysine, which is a natural anti-viral cold sore remedy, helps in cancer treatments, and reduces anxiety.
So, get yourself to your nearest farmers market and celebrate Fresh Fruits and Vegetables Month with these tasty, fresh, nutrient-rich wraps.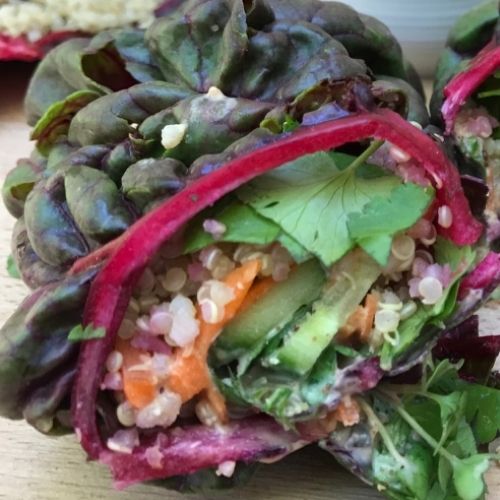 Ingredients
4 Swiss chard leaves, whole (can replace with collard leaves)
1 cup cooked quinoa (can replace with cauliflower rice for Paleo/Whole 30)
1 cup shredded carrots
2 cups sprouts (radish, broccoli, bean, etc.)
1 cucumber, sliced
4 radishes, shredded or sliced into matchsticks
2 slices ginger, minced
½ bunch cilantro, chopped
Handful fresh mint leaves
¼ cup sunflower seed butter, unsweetened (can replace with almond butter)
1 lemon, juiced
1 teaspoon honey (replace with agave syrup for vegan, omit for Whole 30)
Sea salt and black pepper to taste
Directions
Lay out the Swiss chard leaves. Chop off the ends.
Top with quinoa, carrots, sprouts, cucumber, radishes, ginger, spring onion, cilantro and mint.
In a separate bowl, mix the sunflower seed butter, lemon juice, honey, sea salt and black pepper with a fork.
Pour the dressing over the vegetable mixture on top of the chard leaves.
Close the wrap and serve.
For a bowl option, start with the cooked quinoa as the base, layer the vegetables and herbs on top, and then drizzle the dressing over and enjoy!
References:
https://www.medicalnewstoday.com/articles/284103
https://www.medicalnewstoday.com/articles/270191#nutrition
https://www.medicalnewstoday.com/articles/265990#nutrition
https://www.medicalnewstoday.com/articles/277627#benefits
https://www.healthline.com/nutrition/mint-benefits#TOC_TITLE_HDR_5
https://draxe.com/nutrition/sunflower-seed-butter/
https://www.medicalnewstoday.com/articles/274745#benefits
https://www.medicalnewstoday.com/articles/283006#benefits-
https://draxe.com/nutrition/l-lysine-benefits/