Quick & easy, gluten & dairy free comfort dessert
It's cherry season, especially here in Washington state where it is the state fruit. During cherry season here one can find a wide selection of local grown varieties in addition to the typical Bing and Queen Anne, including Chelan, Rainier, and Regina. I would always make a lattice crust cherry pie at the beginning of summer, but when I went gluten and dairy free, I found the alternative flour crusts to be a lot of frustrating work to contend with. Instead, I now love to make Cherry Clafoutis, which is delicious, comforting, and a quick snap to make.
Clafoutis is a rustic eggy French dessert that's sort of a cross between a custardy pudding and cake. Impressive looking and easy to make, this Paleo Cherry Almond Clafoutis is a sweet creamy treat and a great way to celebrate July's National Cherry Day on the 16th. Cherries are a good source of nutrients including Vitamin C and potassium. They are also a gut healthy source of fiber. I think almonds complement cherries beautifully and add a bit of crunch. Read on for the recipe.
This dessert comes together in less than 15 minutes to prep. The most time-consuming task is pitting the cherries. I highly recommend using a cherry pitter, like this one, and pitting in the kitchen sink, or even outside. Wear an apron or work shirt and disposable gloves as cherry juice can stain and get everywhere! I bulk up on fresh cherries when in season, have a "pitting party" and then freeze in 4 cup quantities to use all year round in smoothies, coconut yogurt muesli parfaits, crisps, and more clafouti when the mood strikes.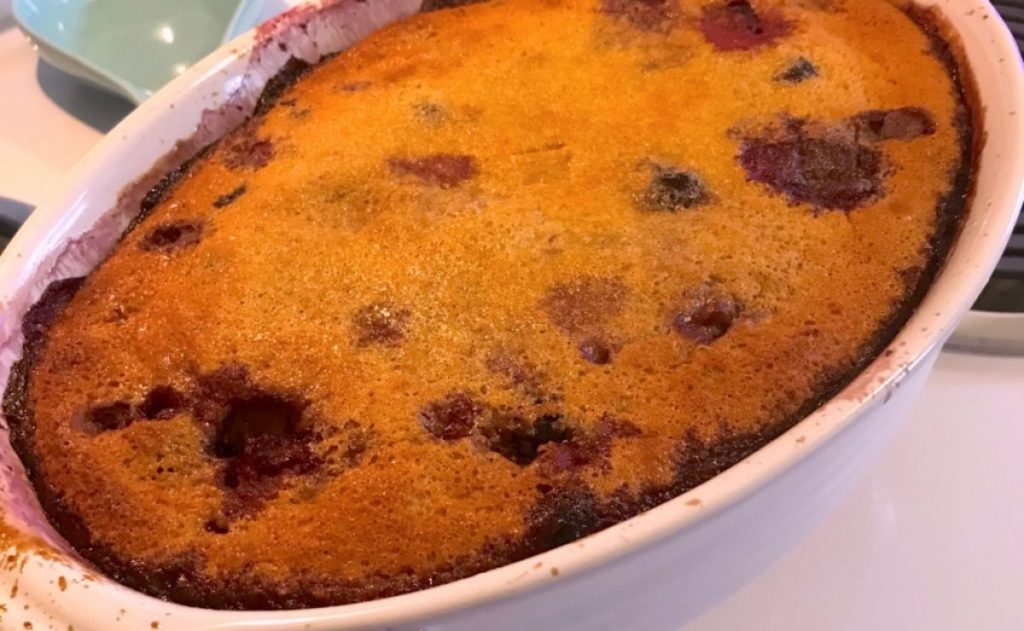 Paleo Cherry Almond Clafoutis
Ingredients
1.5 lbs fresh sweet cherries stemmed and pitted
Batter
4 large eggs, room temperature
1 cup almond milk (any other milk is OK)
1/2 cup almond flour
1/4 cup tapioca starch
1/4 cup maple syrup (dark grade-B) or raw honey
2 Tbsp melted coconut oil or ghee
1 tsp pure vanilla extract
1/4 tsp almond extract
1/4 tsp salt
Topping
2 Tbsp sliced almonds (optional)
Directions
Preheat the oven to 350°F
Grease a 10″ baking dish (approximately 6 cups volume) with coconut oil or butter, arrange the pitted cherries at the bottom in a single layer and set aside.
Combine the remaining ingredients, except for sliced almonds, in a blender or food processor and mix completely on high speed until blended. It will be a thin crepe-like batter.
Pour the batter over the cherries and then sprinkle the sliced almonds over the top if desired.
Bake in the preheated oven for about 45-50 minutes, until puffed and golden brown. Keep an eye on it and if the clafoutis browns too quickly, loosely cover with aluminum foil. Use a toothpick to check if it's done. Avoid cherries and the toothpick should come out clean.
Remove from oven and let cool for a few hours on a rack.
Serve warm or at room temperature. Be mindful of any missed cherry pits and enjoy!